We, at Starwest Motorcars, offer one of Canada's leading providers of extended warranty and automotive solutions. SecureDrive Protection Products provide mechanical breakdown protection for you, your family and your investment relating to your vehicle. SecureDrive Mechanical Breakdown Protection provides the additional coverage you're looking for so you can enjoy worry-free vehicle operation.  Whether you own or lease, SecureDrive has numerous customizable coverage options designed to match your driving habits and ownership period.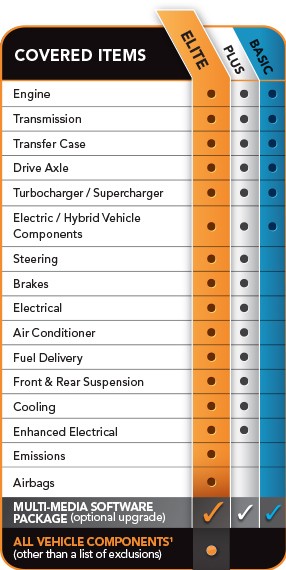 SecureDrive Mechanical Breakdown Protection (MBP) is designed to safeguard you from unexpected repair costs. Automobiles are complicated machines and with ongoing technological advancements, it is inevitable that mechanical failures will happen during your vehicle's lifetime.
When you select Elite Coverage you receive supreme protection against mechanical failure, similar to the manufacturer's comprehensive warranty. With all components covered except for a select list of exclusions, you can look forward to worry-free driving for years to come. Items not covered are Accessory items such as Cell Phones, Key Fob, and Non-Factory Audio Equipment; Maintenance Related items such as Exhaust and Emission Systems, Batteries, Clutch Assembly, and Self Restraint Systems (except Airbags);  and Cosmetic items such as Glasses, Lenses, Moldings, Upholstery, Bumper, Body Sheet Metal and Panels, and Structural Body Parts.
Examples of additional components covered by Elite Coverage: Airbags, Heated Seat Elements, Keyless Entry Module, Heater/Vent, Fuse Box/Power, DRL Module, Coil Springs, and much more.
MBP will also cover new vehicle technologies that are constantly being developed such as: Lane Departure Warning, Adaptive Cruise Control, Night Vision, Automatic Parking, Collision Avoidance Systems, Blind Spot Detection, Driver Drowsiness Detection.
Additional reasons to select SecureDrive
Coverage Designed to Wrap
Elite and plus coverage can be combined with the manufacturer's extended power-train warranty to offer ultimate protection at a lower cost.
Deductible Reduction
$50 deductible reduction on select plans when you return to your selling dealer for an eligible repair.
Transferable
If you sell your vehicle, MBP is transferable to the next private owner.
Extensive Eligibility
Coverage is available for most makes and models for vehicles up to 13 model years old or 200,000 km.
Solid Backing
MBP is underwritten by The Sovereign General Insurance Company, a member company of The Co-operators Group.
Multimedia Software Package (optional upgrade)
With this package, the cost of all manufacturer recommended software updates to your vehicle's entertainment and navigation systems are covered (up to $500).
For more information please visit SecureDrive.ca or download their brochure here.